As the seasons start to change, so my mind starts to think about new clothes.  It's a bit obsessive, lately.  I realize that I've still been "making do" in the wardrobe area for the past few years, and that I really need to start growing an "adult" wardrobe.  So here are the things I will be (hopefully) adding to my wardrobe this fall. (Maybe later I'll do one for Andy, too…I love shopping for his clothes—he's becoming quite fashionable over the past 3 months)
1. Black pants.  I have two pairs, but I don't love either.  One has a broken button, so I safety pin it shut.  The other sits funny on my hips and makes my sides ache.  So this fall I'm looking to get a "nice" pair of black pants that fits me well.
2. Dresses that can transition from warm to cold.  I bought two already.  I'm in love with the idea of wearing a dress now, and then layering it with a long sleeved tee or cardigan as it gets colder.  It makes things so versatile.  Here is one I am excited about wearing all winter long.
3. T-Shirts—Long, Short and 3/4 length.  I am a firm believer that with the appropriate neckline and jewelery, a t-shirt can be school appropriate.  And the long sleeved shirt can go under anything in my wardrobe to make it cold-weather appropriate.  I may feel this way because I struggle so with button-downs and blouses.  Button-downs and I have a gaping problem.  And my shoulders and upper arms struggle to fit nicely in a lot of blouses.  They feel tight around my upper body. So I stick to t-shirts.  I have a few favorite t-shirt brands.  For short sleeved with cute necklines, I like Daisy Fuentes and ELLE at Kohls, my favorite long sleeved shirts are Sonoma Life and Style at Kohls, GAP, and Banana Republic.  And I am always a fan of the tissue weight tee from Target.  Should you ever feel any of these, you will quickly understand that I am drawn to very soft fabrics. 
4. Way Cute Coat—I have a short green pea coat that I got from Target last year, and I instantly feel adorable when I put it on.  I love that coat.  I'd like to find something cute for all winter this year.  I have always been in love with the pink coat Lorelai wore during the winter of season 4 on Gilmore Girls….or the red one that Rory wore season 5.  Something about fun colors makes winter outwear so much more exciting.
I like this one from Kohls, because it has a hood (and I have outdoor duty at school all winter long…somehow this year I'm indoors during all the mild months, and I'll be outside from December-March).  There are some cute ones on Overstock.com too.
5. Comfortable shoes.  This is a must considering I spend my days walking back and forth across the school building and my classroom.  And I'm not a slow mover.  I had two pairs of shoes that have served me well for the past two years, but this year, they aren't as comfortable.  I think I've worn down the padding.  They are starting to show their age, too.  So it's time for them to go part time, and some new shoes to take center stage.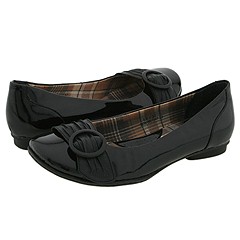 6. Jewelry.  I so spelled that wrong the first time.  But for real, I'm in need of some serious accessories.  I think I focus most of my time on my clothing, and forget about accessories.  And I have seen from watching a co-worker every day the impact that cute jewelry can have on an outfit.  So I need to increase my collection.
7. Boots.  I have long desired a pair of riding boots.  And every year I tell myself that this will be the year.  Well, this time, I mean it.  For real. I also love the look of a stiletto boot, I'm just not sure where I would wear it.  I could do it occasionally at school, but it couldn't be an everyday thing.  There are several at Macys.com that look cute.  I may order a few and see what works.  Sadly, I can't link the pictures. 
8. Sweaters.  Cardigans and V-Necks mostly.  They seem to be what I prefer.  I would also like a few casual sweaters, for casual Fridays and weekends.  Here are a few that I like: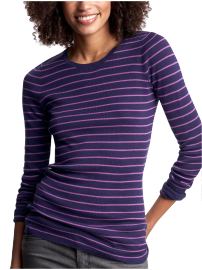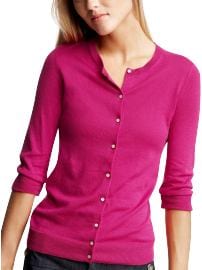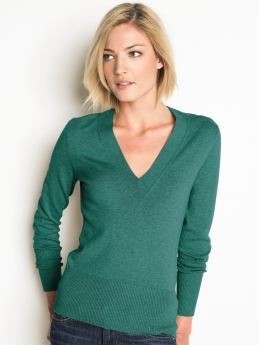 9. Jeans.  I have a tormented relationship with jeans.  I can just never find the pair that fit me quite right.  I always feel just a little bit self-conscious in jeans.  So I would like to find my perfect pair.
10. And lastly, a fabulous go-to skirt.  Something I can toss on with a t-shirt and sweater and perhaps a necklace and fly out the door.