Sometimes I forget how much fun can be had inside of a mall.  There is something about finding that perfect deal in the mall that you just can't be beat.  We spent the day in Louisville yesterday with Jon and Carrie, and I remembered a bit of that thrill.
My first deal of the day was this bag at Macys: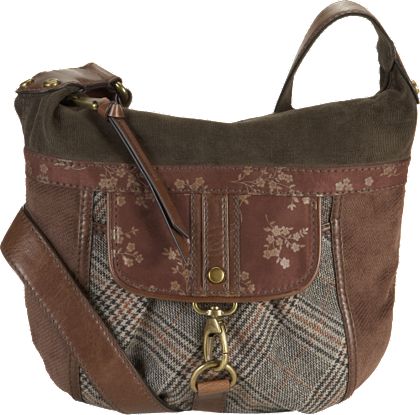 It is a Fossil bag that lists at 88 dollars.  I paid 32.  And I am in love with it.  It has the perfect pockets and I LOVE the different patterns.  It's totally funky, but really neutral.  It's the perfect winter purse :)
(I am also totally in love with these pants from Macys.  I would have never bought them on my own, but Andy's mom gave me a pair for Christmas last year and I wear them CONSTANTLY.  They are my go-to work pants.  I want them in every color…but I decided not to buy any yesterday.  I feel like there was more selection in store than online, color-wise, though).
Then at Von Maur, I struck gold with these great casual shoes from Merrell.  They were originally 80, and I got them for their second markdown price of 40.  They are still listed full price just about everywhere I looked on the internet.  So I'm way excited.  I put them on, and it felt like a glove wrapped around my foot saying, "Welcome home.  We are dying to be your new brown weekend shoe.  Do you see how cute we look with your jeans?"
And if these go on sale at Dillard's, they are coming home to me: